When it comes to high-performance lithium battery requirements, Sunpower New Energy stands out as a trusted name. Our 5000mAh 21700 Li-ion battery is designed to deliver reliable performance even in the most challenging environments. With its exceptional storage and cycle life performance under high-temperature conditions, our battery ensures that your equipment remains powered and operational when it matters most.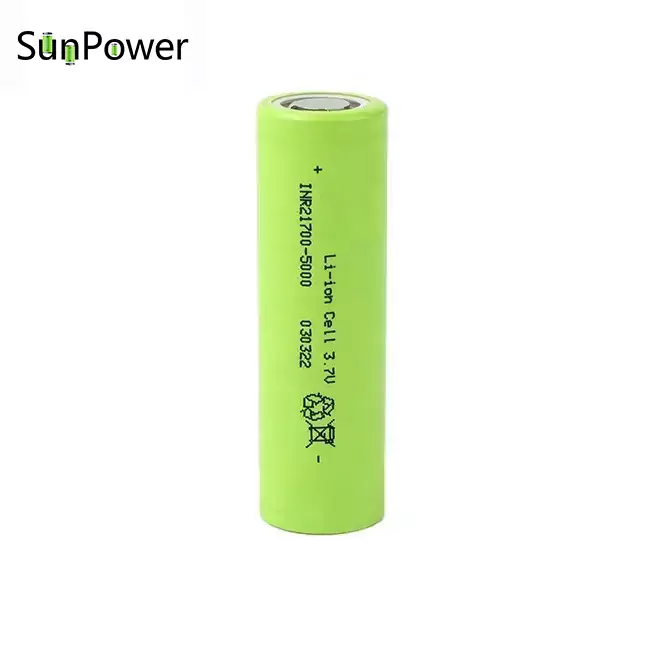 Reliable Performance in Harsh Environments
At Sunpower New Energy, we understand the importance of stability, safety, and reliability in demanding industries. That's why our Sunpower 5000mAh 21700 Li-ion battery is built to withstand harsh environments, providing uninterrupted power supply in extreme conditions. Whether it's intense heat, rugged terrains, or challenging work environments, our battery is up to the task, ensuring that your operations continue without a hitch.
Aligning with Global Standards
As a world-class brand, Sunpower New Energy has gained a reputation for excellence and innovation. We take pride in exporting our products worldwide, aligning with the rigorous standards set by Japan and South Korea. By doing so, we ensure that our customers receive products of the highest quality and performance.
To maintain our commitment to quality, Sunpower New Energy adheres to strict certifications and compliance. Our 5000mAh 21700 Li-ion battery undergoes comprehensive testing and meets all necessary industry standards, including UL, CB, SGS, BIS, PSE, KC, MSDS, and UN38.3 certifications. This dedication to quality assurance guarantees that our customers receive batteries that are safe, reliable, and perform optimally in their applications.
Diverse Applications of the 5000mAh 21700 Li-ion Battery
The versatility of our 5000mAh 21700 Li-ion battery opens up a world of possibilities across various industries. In electric propelling applications, such as intellectual robots, electric bicycles, and power tools, our battery delivers the high-performance power needed to drive efficiency and productivity.
Additionally, our battery finds extensive use in energy storage solutions, including solar and wind power systems. As the world moves towards renewable energy sources, Sunpower New Energy empowers individuals and organizations to harness the potential of clean energy with our reliable and efficient battery technology.
Furthermore, our 5000mAh 21700 Li-ion battery is a trusted choice for back-up systems and UPS applications. From telecom base stations to medical instruments and military equipment, our battery ensures uninterrupted power supply, safeguarding critical operations and protecting valuable data.
Conclusion
When it comes to maximizing performance in demanding environments, Sunpower New Energy's 5000mAh 21700 Li-ion battery is the ideal choice. Our reliable battery provides the power and durability needed to excel in electric propelling applications, energy storage solutions, and back-up systems. With a commitment to global standards and certifications, our company ensures that our customers receive products of unmatched quality and performance.
Choose Sunpower New Energy for your battery needs and unlock the true potential of your applications. Experience the reliability, stability, and performance that only our products can deliver. Contact us today to learn more about how our 5000mAh 21700 Li-ion battery can enhance your operations and drive success.